Home

About Us

Meetings

Next Exhibition

Previous Exhibitions

Member's Layouts

Member's Login

Photo Competition

Links

Contacts

2018 Exhibition

The 2018 Exhibition, our 44th was held on 24th, 25th February. This was our first in a new venue and despite a few minor teething troubles we had a good weekend

Below are images of some of the layouts etc. More titles and layout information will be added as time permits.

Click a thumbnail to open the full size image in a new window.


Roarkes Landing Revisited
Built by George Woolnough




Fort Whiting
Built by Charles Insley








Playing Trains in TT Gauge
Built by David Payne







Catley Quarry
Built by Alex, Barbara and Angus Pleuvry





Happy Valley
Built by Dennis Collier




Die Keinnahmebahn
Built by Andrew Jeffcock






Kexby for Dunnington
Built by Mark Howarth




Bridge Street Goods
Originally built by Martin Baker
Exhibited by Ian Hallworth and Rex Ashton





Linden Grove
Built by Colin Kennington




Haslingden


Wolf Lowe





The Hastings Cliff Railway
Built by Tony Barratt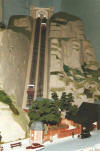 Burnham an Sea
Built by Alastair Knox



Model Fairground
Built by Stephen Fletcher



Busy Day